Audiologist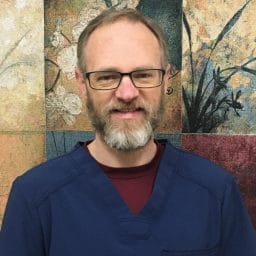 Dr. David and Dr. Elizabeth each have outstanding qualifications and more than 10 years of experience serving patients from infants to adults. They also have strong personal connections to the Ellsworth and Downeast areas.
Dr. David grew up in Minden, Nebraska. He completed a bachelor's degree at Nebraska Wesleyan University, a master's degree in psychology at University of Pacific in California, and went on to earn his doctor of audiology degree at University of Louisville's School of Medicine in Kentucky. As a student, Dr. David spent his clinic externship at the Louisville VA Medical Center, where he created a tinnitus rehabilitation clinic for disabled military veterans. Upon graduation, Dr. David was responsible for developing and growing the Hearing and Balance Center at the University of the Pacific in Stockton, California.
Dr. David met Dr. Elizabeth while attending a national audiology convention in Tucson, AZ as students in 2004. After a short engagement, they were later married in Jonesport, ME in 2005. After practicing for several years in California, the Jardines together spent the past six years developing and running a state-of-the-art audiology center at Central Maine Medical Center in Lewiston, Maine. In March of 2017, Dr. David and Dr. Elizabeth were invited to join audiologist Mary Toothaker, M.A. at the Audiology Center of Maine. They later acquired the practice on June 22, 2018.